Welcome to

Yali's Oxford Street Café!
Yali's Café is a vibrant and popular café where locals from nearby neighborhoods, businesses and the University all come to congregate in a friendly, welcoming atmosphere.
Since 1999 we have been serving custom roasted, expertly prepared coffee and espresso, along with our granola, desserts, paninis, pastas, soups and salads, which are all made fresh, daily.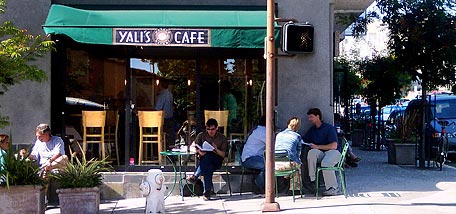 We are conveniently located across from the northwestern side of the UC Berkeley campus, right in between downtown Berkeley and BART and the Gourmet Ghetto.
We select the highest quality ingredients such as Diestel turkey, natural chicken, Acme bread and Scottish lox. We also operate as a green business, using all biodegradable containers, cups and utensils.